Welcome!
Award-Winning
Improving Life Skills and Character-Building Children's Picture Books
Over 340,000 Copies Sold!
Fun Times With Timeless VirtuesÔ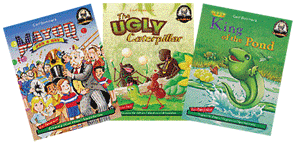 Books & Read-Alongs
(click to begin shopping)
Over 500 Pages of Free Character-Building Resources!

The highly acclaimed Another Sommer-Time StoryÔ series and Read-Alongs are written to help children understand and follow the virtues that lead to successful living. These exciting character education picture books are fun and easy to read. Each book communicates warmth and tenderness that is certain to delight children as they learn positive character traits.
Children will be captivated when they read along with author Carl Sommer as he tells these interesting and exciting award-winning stories. Each story has realistic sound effects, dynamic music, and a song from the Karacter KidzÒ project. All these read-alongs have won numerous awards. Grades K to 4.
Read the enthusiastic comments these books have received from librarians, teachers, guidance counselors, parents, leaders, and especially children. Guaranteed Satisfaction!
Download an Order Form or Call 800-917-9630